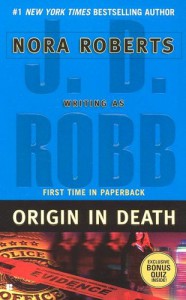 Possible tiny spoiler at the end of 1st paragraph...
I think what I liked so much about this one was twofold. First, as always, Robb's social commentary is superb. She takes issues that are on the burner today and pumps them up for 50 years in the future. And sometimes the look we get is excellent (gun control, birth control, same-sex marriage and interracial relationships a non-issue) and sometimes it's downright scary, as in this book where the focus is on genetics and cloning.
I also liked the first real peek I recall at the actuality of the Urban Wars, and once again, I felt like this was somewhere I could see our world heading.
Lastly, I liked that this book seemed to settle Eve and Roarke once again, following the upheaval in Divided in Death and the almost wackiness I felt in Visions In Death. Although, they continue to get themselves into situations that stretch their comfort level (family for Thanksgiving), but it shows how they ground each other and how their relationships make them much more willing and able to interact with others on a real basis (though they are still uncomfortable as hell with the idea of family and Eve is still uncomfortable with the idea of sharing a holiday table with anyone!).